From the time we were born, we have been raised to believe that the only way to get our messages across is to speak to people face to face. That's how it was in the past, but now there are so many different social media platforms available to us and it has become a vital part of our day-to-day lives, and it's changing the way we live, work, and play.
Social media has changed the way we used to do business, and it's going to change the way we market our products and services.
In this post, we'll take a look at the most popular platforms, how they work, and how they can help you grow your business. Social networking platforms are websites that are designed to enable users to create and share content, such as blogs, videos, photos, and articles.
You can find people and businesses from all over the world on social media sites such as Facebook, Twitter, Instagram, and Pinterest. It's very crucial to know how these platforms work to make use of them and benefit your business.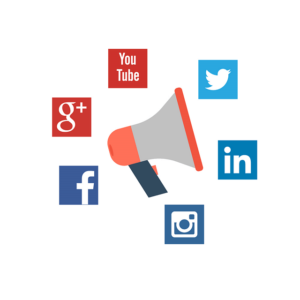 List of top social media platforms
1. Facebook
It has a massive user base of billions and is the largest social network by far. Facebook has had an incredible impact on the world and has changed the way we live our lives.
It has become a major platform for businesses to connect with their customers, share information, and build relationships.
Facebook is free to use and most people are using it. Facebook has been increasing the number of active users for the last few years.
How does Facebook help in growing a business?
Businesses that have a strong business relationship with their customers are the most successful businesses and Facebook helps in building strong business relationships.
It helps in strengthening the brand image and building customer loyalty.
Facebook helps in getting more customer traffic by improving sales and marketing. If you can reach more people, you can get more leads and more sales.
Facebook Ad is the most powerful and easiest way to promote your business, where you can also run video ads to convey your message clearly.
2. YouTube
It was launched in 2005 and was created by 3 former employees of Paypal company who were looking for a way to create a video-sharing community. Today, YouTube is a major player in the online video market with billions of views per month.
With time Youtube's popularity exploded, and in 2007 it was purchased by Google for $1.65 billion. There are millions of videos on Youtube. The number of hours watched each month by users around the world is huge.
However, Youtube is a video-sharing site, which means that you can only upload your own videos. It's free, but you have to pay to advertise.
It is the best video-sharing site for many reasons.
The first reason is that it has the most users, which makes it the perfect place for advertisers to reach the widest possible audience.
It's easy to use as there are no complicated software downloads or plugins to install.
It's free to use, which means that it's easy for businesses to get started.
Many people have turned to YouTube to find solutions to their problems. They can watch videos of other people who have had similar problems and can find solutions.
3. Instagram
Instagram is a photo and video sharing app that allows users to create short, looping videos and then share them with friends through a social media network.
While the app was originally designed as a way for people to share pictures of their meals or vacations, it has grown into one of the top social platforms.
Instagram is now owned by Facebook. The platform has millions of monthly active users and a staggering amount of daily engagement.
Instagram was made by two friends, former Apple employees who wanted to start a new social media app.
Instagram is a popular tool for businesses and brands looking to grow their audience, build their brand recognition, and attract new customers.
The photos and videos can be uploaded to the app using a smartphone and then viewed and commented on by other users. Users can also follow other users.
When you post a photo on Instagram, you are giving people the chance to see what your business is all about. This means you are communicating visually, and your message will be more likely to stick in people's minds.
In fact, studies show that when people are looking at images, they are more likely to remember them than if they are reading words.
Instagram is easy to use. Conversely, Facebook and Twitter are difficult to use. If you are not tech-savvy and new to social media, Instagram is the perfect place to get started.
Facebook is one of the biggest social platforms with the largest audience. However, Instagram is growing in popularity. This is because it is the fastest-growing platform.
In the next few years, Instagram will become the main social networking site.
Read: How to be a social media influencer
4. Twitter
Twitter was created by Jack Dorsey and Evan Williams, two friends who met at a design conference in California in 2005. Jack was working for the web development company Odeo at the time, and Evan was a co-founder of the social networking site, TypePad.
They were looking for a way to get in touch with people they knew who were in different time zones and wanted to be able to have conversations with people in real-time.
It is a platform that lets users send messages to other users and these messages, called tweets, can be images, text-based, or videos. Twitter was originally a microblogging platform, where people could post short updates (called "tweets") to their followers.
However, the service has evolved into a more powerful communications tool that can be used by businesses to engage with their customers, prospects, and employees.
The service is free to use, although some features are only available to users who pay a monthly fee. Users can create lists of people they follow and use hashtags to categorize tweets, allowing other users to search for and follow topics of interest.
It is also a great place to find new ideas, get inspired, and connect with people.
5. Linked In
Linked In was founded in 2004 by Reid Hoffman and his two best friends from Stanford University. The service started out as a social network that focused on business networking and professional connections.
Initially, it was a very small company. But the founders understood that there was a huge opportunity for this new social network. It just needed to be a bit more than a social network.
So they set about building the first version of what would become Linked In.
LinkedIn has been getting a lot of press recently because of its ability to help businesses connect with people and share ideas. It is a suitable platform to find and hire people. This is a great benefit to business owners who want to find and hire the best people.
It is also one of the best places to find potential clients. Linked In is a great place to build a strong network of business contacts. It has been getting a lot of press lately because of its ability to help businesses connect with people.
6. TikTok
It is a mobile app that lets you create small videos that can then be shared with others. The app has been downloaded by billions of people in many countries. The app has become so popular that it has spawned a social media phenomenon known as "Tik Tok culture".
It was developed by a Chinese company ByteDance in 2016, based in Beijing. The app went viral, and ByteDance quickly sold the company to the Chinese search giant, Tencent for $75 million.
It has quickly become one of the top apps in the world, and its popularity continues to grow. It's been a huge success, but it has also been the target of many controversies.
7. Snapchat
When you think of Snapchat, you probably think of a fun, social app that allows you to send photos and videos to friends and family that will disappear after viewing. It has been described as a "camera application for sending disappearing photos".
But did you know that Snapchat was actually invented by three Stanford students in 2011? That's right—Snapchat is the result of a student project that started in a dorm room at Stanford University.
The idea for the app was born when the founders, Evan Spiegel, Bobby Murphy, and Reggie Brown, were working on their final year project for a class in 2011. The three students started working on a camera app called "PicLens" in a dorm room at Stanford.
The idea was to allow users to send videos and photos, which after a few seconds would disappear. It was an idea that the founders had been thinking about for a while, but it wasn't until they started working on their project that they realized that they could actually make it happen.
The three students started working on the app with their friend, Chris Huang, who later became a co-founder of the company. The app was launched on Android in 2011 and on iOS in 2012.
Social Media in the growth of businesses
In order to use social media to help your business grow, you first need to understand what the platforms are and how they work. There are many social platforms, and they vary based on how they operate.
There are platforms for businesses, such as Facebook and Twitter, as well as personal platforms, such as Instagram and Snapchat. There are also platforms that are used for businesses and personal accounts, such as Pinterest.
You can do a lot many things to grow your business with social media, but it is very important to be consistent. These platforms are a great way to bring your services to your target audience.
Businesses have been quick to recognize this, and have begun to take advantage of these powerful tools in order to promote their products and services.
Social media is all about engagement. Engagement means interacting with your target audience and sharing information. It enables us to reach new customers, connect with existing customers, and promote our services.
Conclusion
It's true that social networking sites have been facing a lot of negative criticism in recent months. The social network has been under fire for the spread of fake news, the sharing of misleading content, and a rising number of bullying incidents.
We get news that is biased and it is shared by people who have a political agenda. We get posts that are about celebrity gossip, but we don't see a lot of posts that talk about the impact of social media on our lives.
We get posts about food, but we don't see a lot of posts about what it means to live a healthy life. We get posts about travel, but we don't see a lot of posts about the importance of having good neighbors.
There is both good and bad side to social networking sites. Make the right use of it to grow your business.
FAQs
What are social media platforms?

These are the platforms that allow you to share content with people. It's a great way to build a brand, connect with customers, and create a buzz around your business.

What was the first social media platform?

SixDegrees.com was the first social site made in 1997.

How many social media platforms are there?

There are numerous social networking sites, among which only a few are widely used and are popular.