Social Media Marketing is a term used to describe the process of using social media to promote products or services. Here, businesses post updates about their products on social media profiles.
Social media marketing(SMM) has become the biggest driver of traffic to websites. It is also a great way to get your name out there and to make sure that you're getting the exposure that you need to grow your business. Social media marketing is basically the practice of using social media sites and networks to market a company's products or services.
The term has been used to describe activities like posting links and sharing information about a company in the hope of driving customers away from competitors and toward the brand.
In the past, people would have to use traditional forms of advertising such as newspapers, television, and radio to promote their business. Now social media allows you to reach a much wider audience than traditional methods of advertising, which means you can get more people to see your content.
Remember, create content according to the taste of your audience. There are many ways to use social media marketing, and companies are always trying to find the best way to leverage the marketing potential of the internet and social media.
People generally use social media to post photos, and videos, or connect with friends and family. But there is more to it. Make the best use of social media by promoting your business.
You can do this by:
a. Sharing the links of your website or blog on social media.
b. Creating content that your audience will share with others
c. Promoting your business and your products through the use of influencers.
d. Building relationships with your audience and encouraging them to follow you.
e. Using social media to build a community of loyal followers.
How Social Media Marketing (SMM) Works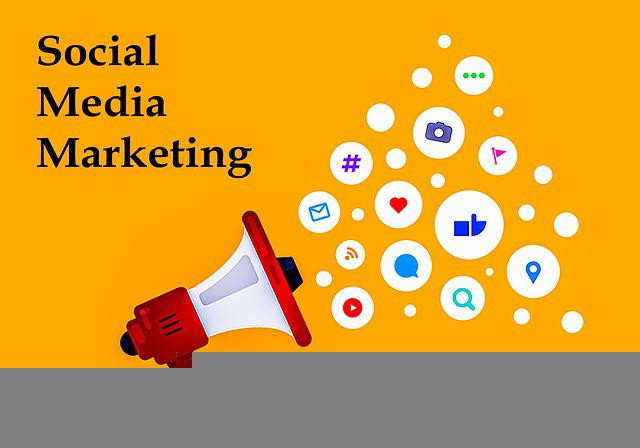 Users can communicate and collaborate in virtual communities called social networks. These networks allow individuals, businesses, organizations, or communities to interact and collaborate in real-time via posts, messages, photos, videos, blogs, and other web-based technologies.
Social media marketing uses the same techniques and strategies as other types of Internet marketing. However, because the content is intended for a wide audience, there is often less competition than in other marketing mediums.
We can make use of tools to do marketing on social media. Some of these tools and resources are free, and others are paid. If you're looking to start a social media marketing campaign, I recommend using a paid tool like Buffer or Hootsuite.
They help you schedule a post and also monitor your progress. There are also other free tools that can pretty much help you in most of your work.
Social media marketing is a great way to reach your target audience, but it's not a one-size-fits-all type of marketing.
If you don't know how social media marketing works, you might have a hard time making it work for your business.
With that said, social media marketing has limitations. For example, you can't expect a company's brand to perform well if the content is not compelling enough. Additionally, you can't force your audience to engage in your content.
Social media is a powerful marketing tool, but it is not a substitute for a traditional marketing campaign. It is a platform to reach and communicate with your customers.
Features of Social Media Marketing (SMM)
Compared to traditional marketing, it is cost-effective.
It is a powerful tool that can be used to connect with potential customers and clients.
It is an effective way to get your name out there, especially if you are new to the business world.
It can help you build your brand and can be a great way to get feedback on your business.
Advantages of Social Media Marketing
There are several benefits to using social media marketing, including the fact that it is free and very easy to use.
The main benefits of social media marketing include increasing brand awareness and visibility, increasing sales, and building trust with customers.
With social media, you're able to communicate with consumers directly, instead of having to pay for ads to reach them.
It is cheaper than traditional marketing because it's much less expensive to advertise on social media than it is on TV or radio.
According to a report from the Social Media Examiner, the average cost of a social media marketing campaign is $5.62. This means that you're able to spend a lot less money on advertising than you would on TV or radio.
It's easy to understand, easy to use, and it can be extremely effective.
You can check well-performing posts.
You can send updates about your products and services to your customers.
Besides marketing, you can use social media to create an online community.
You also have the option of using a social media management tool to schedule when you post, what you post, and who you post it.
Free Marketing: Here, you are not paying to have a website or hire an SEO company to do marketing for you. For example, you can put your business's name, address, and phone number on social media sites like Facebook and Twitter, and people will see it. You don't have to pay for this. Through this information, people can reach you.
Disadvantages of Social Media Marketing
People will not get a chance to reach you personally if they want to contact you.
If you send too many messages, you might be seen as a spammer.
People who use ad blockers are less likely to see your advertisements. If you want to reach people who are on social media, then you need to make sure that you are reaching them with an ad that they will actually see.
Social media is filled with spam. There are a lot of people who use social media to advertise products or services that they don't actually sell. This can be a waste of your time, and it can make your social media posts look like spam.
If you want to avoid getting your information stolen, then you need to use security measures to protect your information.
You must be willing to post content on a regular basis to grow on social sites.
If you have a small business, it is unlikely that you can afford to devote the time and resources needed to create a large presence on social media.
You can only target people that are already using social media.
If you use social media to market your business, you are going to be at the mercy of the people that are using social media.
Social media marketing statistics
Unquestionably, the use of social media marketing has increased in the last few years. Social media marketing statistics are important to the social media industry because they help businesses to determine the most effective strategies for their own businesses.
It also helps them to understand the success and the failure of their social media marketing strategies.
The number of active social media users is growing rapidly, so it is important to understand how these users are behaving. Statistics show that around 3.8 hours are spent by average social media user every week.
It is also seen that there are more men than women who are active social media users. The number of women using social media sites is growing, but the number of men using social media sites is growing at a much faster rate.
These statistics can be used to identify the demographic of your target audience and how they use social media. It is also used to check how campaigns are running.
Businesses can use these statistics to understand how many people are visiting their website or how many people are following them.
Social media is the best marketing tool for businesses. The use of social media marketing has changed the face of marketing in a positive way.
Types of Social Media Marketing Statistics
There are three types of social media marketing statistics:
For businesses, Non-Profit organizations, and Government.
Related articles:
Web Hosting types and features
The ultimate guide to Affiliate Marketing
The best social media marketing platforms
It's not always easy to choose which platform works best for you. Use the right platform to get the best results. Social media marketing(SMM) is a very powerful way to get your message out to the world.
The best social media marketing platforms are those that allow you to reach a large number of converting customers.
| | | | |
| --- | --- | --- | --- |
| SMM Platform | Content | Strategies | Cons |
| FACEBOOK | Photos & links ,Information, Live Video | Local Marketing, Advertising, Relationship | Weak organic reach |
| YOUTUBE | How-to videos, Webinars, Explainers | Organic, SEO, Advertising | Video is resource-heavy |
| INSTAGRAM | Inspiration, Adventure, Questions, Polls | Ecommerce, Organic, Influencer | High and Costs |
| TWITTER | News, Discussion, Humour | Customer service, Ads for males | Small ad audience |
| LINKED IN | Long-form content, Core values | B2B, Organic, International | Ad reporting & custom audience |
| TIK TOK | Entertainment. Humour, Challenges | Influencer Marketing, Series content | Relation building |
| SNAPCHAT | Silly, Feel good, Trends | Video ads, Location-based marketing, App marketing | Relation building |
We will tell you about what the best social media marketing platforms are and how to use them to grow your business.
Facebook
According to a study by the Pew Research Center, more than eight in ten Internet users use at least one social networking site, and Facebook is the most popular social media platform. It has over 2.93 billion monthly active users, and it is used by more than 1 in 5 Internet users.
It is a great platform for businesses. It is a place where people go to share their experiences and connect with others.
It is also the most visited website in the world, so it's a great place to reach a large number of potential customers. The study found that Facebook is more effective than Twitter and LinkedIn.
There are also Facebook apps, which are helpful in running a business.
LinkedIn
It has millions of monthly active users and is a popular networking site among the business community.
It is a social network for professionals that lets you build relationships, find new job opportunities, and expand your professional network.
You can use it to meet new people, stay up to date on what's happening in your industry, and even get your name out there. It's a great place to build your brand and expand your reach.
Instagram
Instagram is a social media platform that's used by celebrities, politicians, and businesses. It has been known as a platform for sharing photos and videos. However, the popularity of this platform has also been attributed to its ability to connect people.
Instagram can be used for various purposes. For example, you can use it to share photos and videos of your life, or you can use it to create an online store.
It has been described as a combination of Facebook and Twitter, with some extra features such as filters and comments.
If you haven't used it for marketing purposes yet, you're missing out on a great opportunity to reach and engage your audience which is more potential than other social media platforms.
Twitter
Twitter is a social media platform where people connect, share, discuss, and engage with each other through the use of text-based messages called tweets.
It's a great way to stay in touch with friends and family, build relationships as well as find out what's happening in the world.
If you're looking for a place to post links to news articles, links to videos, photos, or anything else that you want to share with the world, Twitter is the perfect place for you!
YouTube
Videos are very popular on YouTube and are good for all types of businesses. It has become one of the most popular and effective platforms for building a business, generating leads, and growing your audience.
Users can then comment on the videos, subscribe to other users' channels, and even watch videos from other users.
Conclusion
Social media marketing is a broad term that describes the practice of using social networks to attract new business, engage with existing customers, and retain existing customers.
Social media marketing isn't about spending money on ads, it's about creating an engaging and useful social media platform that encourages people to share your content.
The best social media campaigns are those that create shareable content. If you're looking to create a social media campaign, you need to ask yourself what kind of content will be shared.
You need to think about what will motivate people to share your content. Through social media, we build a community that likes your brand and then nurture that relationship over time.
FAQs
What is Social media marketing(SMM)?

Social media marketing (also known as social media advertising) is an effective way to promote a business or brand online. It's a way of engaging with your target audience online by creating a community around your brand, product, or service.

Is social media marketing free?

You can use social media sites for free, but you will need to pay for advertising.

What's the best way to use social media?

The best way to use social media is to promote your business or brand, but also to interact with your customers or potential customers.