There are many outdated SEO tactics that people still follow to rank their website on SERP. We all must know what these techniques are and why we should avoid them. SEO is not static. It is a dynamic process.
Google brings new algorithm rules now and then. We must keep up with new updates to beat our competitors and rank on SERP. Ensure that you are not following any old SEO practices, which instead of helping you in any way is decreasing the rank of your website.
These techniques do not exist anymore and are also not approved by Google or any other search engine. They may not just decrease the rank of your website but ultimately penalize you from search engines.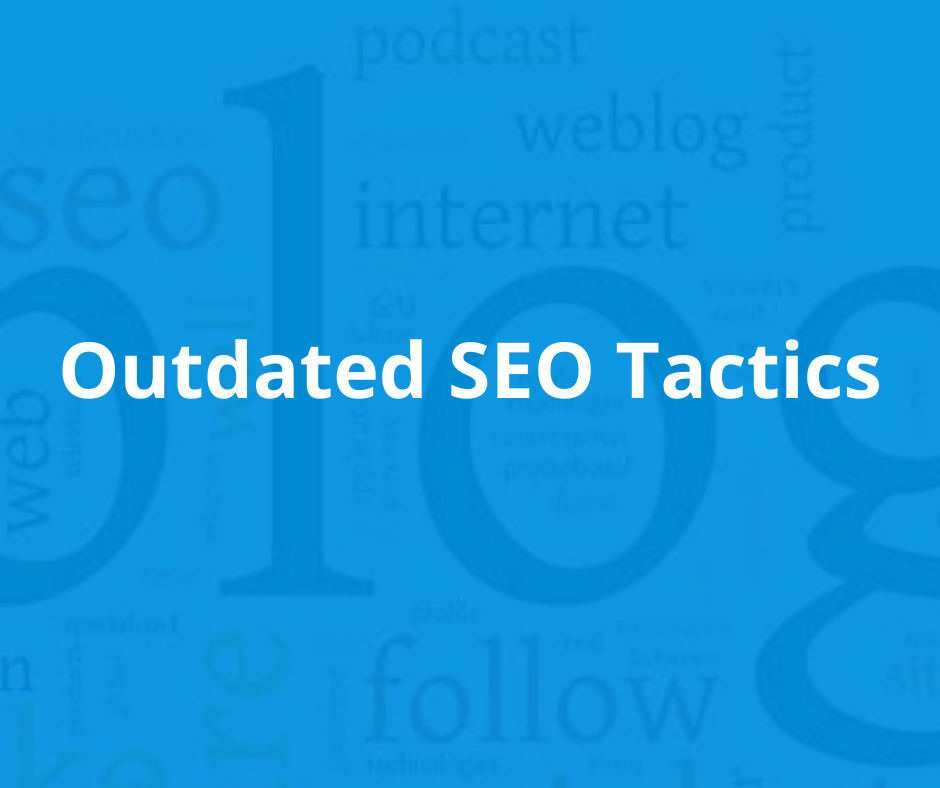 What are outdated SEO tactics?
These are the techniques that Google does not consider in ranking your website in SERP or increasing the visibility of your website in SERP. As we all know that search engine is constantly evolving, keep yourself updated with these emerging technologies and follow the guidelines of Google.
Some outdated SEO tactics
1] Press release
This method was considered a good SEO practice around 7 to 10 years. There were many press release websites available, among which few were free and some paid. Whenever there was a new website, product, or new technology launched, these press releases were made use of, and they used to submit it to these press release websites. However, it is not relevant anymore.
2] Directory submission
It was again given immense importance before. Both paid and free directories. These are nothing but yellow pages where websites owner used to submit their website, including title, URL, Heading, description, what the website is all about, and what services they are offering.
The website was submitted to around 100 to 200 directories. These directories take their information, check it manually, and add it to that directory website. However, this method is now considered spamming as per search engine guidelines.
3] Social bookmarking
Most of the search engine professionals used to follow this technique. It was a hugely followed method for them in OFF page optimization. There are a lot of social bookmarking sites that bookmark tags of their relevant website with the links pointing to the sites. It was considered a good practice as far as link building is concerned. But no more.
4] Blog commenting
Just like directory submission, blog commenting was a widely used SEO technique. Blog commenting was a technique that people used to indulge in. You should avoid this technique now.
5] Article submission
Many article submission websites publish articles on various topics. Just write an article with title, keywords, description, give the resource and point the link to your site. This method was good practice around eight years ago which is no longer practiced now.
6] Reciprocal linking
You might not have heard about this technique much, but many followed it. However, what is it? It is nothing but links exchanging. Imagine you have a website on some niche, and you find some other website on the same niche as yours. Now to increase your rankings on Google, you both exchange links.
7] Forum posting
People used to go to different forum platforms and post comments or make submissions. This method also does not work anymore.
8] Article Spinning
Here, you copy articles from other blogs, submit them in article spinning tools, and generate new content for publishing. These tools use synonyms of words and also interchange words. Nevertheless, this kind of content lacks quality and is not user-centric.
The originality of content is reduced, and this low-value content has no value in the eyes of google. This technique was widely followed before. However, Google has become smart now and can easily catch such content, eventually reducing your ranking.
9] Exact Match domain
We know that the domain name is the website's name that we see in the URL. Now, what is the exact match domain? When someone wanted to rank on a particular keyword, say, affiliate marketing, they used to buy a domain name as affiliatemarketing.com.
This would make their website rank quickly on the keyword 'affiliate marketing' without proper SEO. Now Google has cleared that such domain names have no importance in ranking the websites, and it is an outdated SEO practice.
10] Page for every keyword
Let us say that there are 3 keywords Digital marketing course, Digital Marketing Training, and Digital Marketing Institute. You want to rank on all the 3 keywords. People used to create 3 different pages for each keyword with the intention of ranking. It does not work anymore.
All these keywords are similar and fall under one keyword. So you need to create a single page around this keyword, or else you will have an issue with keyword cannibalization.
11] Keyword stuffing
This was a widely used outdated SEO practice before. Many keywords were used in the content with the intention of ranking. This would somehow help the website owners, and their websites used to rank. But this totally will not work now. You need to consider keyword density which should be around 1- 2%.
Related articles
Benefits of internal linking
Technical SEO checklists
Frequently asked questions
How to know if we are still following outdated SEO tactics?

Google keeps bringing new changes in its algorithm. So we must keep ourselves updated. Read articles about google updates and keep yourself updated.

Does following an outdated SEO technique get you penalized by Google?

Yes. Google has mentioned it clearly that following any old SEO tactics will first decrease your ranking in SERP, and eventually, your website will be penalized.